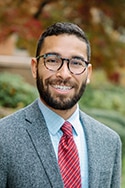 Building Changes has appointed Daniel Narváez Zavala as interim executive director, effective January 4, 2021. Daniel has been our director of policy and strategic communications since September 2018, successfully leading our efforts at advocacy and making sure that our work is shared in ways that achieve maximum impact.
An advocate for social justice, Daniel believes that solutions to homelessness need to percolate from within communities and center race and equity rather than be dictated through existing power structures. He joined Building Changes after working in education in the areas of policy, government relations, and teaching. His education background has been a real asset to Building Changes as we continue to work to improve the housing and academic outcomes of the more than 42,500 students experiencing homelessness in Washington.
Seattle-born, Daniel is a graduate of the University of Washington Law School. Prior to that, he attended Stanford University where he earned a bachelor's in international relations and a master's in psychology. He is also an active member in our community, serving on two local boards assisting youth in low-income households.
Daniel succeeds D'Artagnan Caliman, who is returning to his home state to become director of the new Justice Oregon for Black Lives initiative of the Meyer Memorial Trust. Building Changes thanks D'Artagnan for ably leading us the past eighteen months. We also extend our gratitude to Daniel for stepping up to assume this new role, enabling a seamless transition.
The board was unanimous that Daniel has the background and commitment to ensure that Building Changes loses no momentum heading into a new year full of opportunity. Daniel will lead our organizational initiatives for 2021, which include:
Improving equitable access and experiences for children, youth, and families impacted by housing crises, with a focus on Black, Indigenous, and other people of color.
Securing adequate and sustainable resources and capacity for housing, education, and health systems.
Holding those systems accountable to advance racially equitable and culturally responsive policies, practices, and community partnerships.
Facilitating leadership buy-in and cross-system collaboration.