Schools located in rural communities have the highest concentration of students experiencing homelessness, outpacing cities.
From Aberdeen to Zillah and all points in between, academic outcomes for students experiencing homelessness continue to be worse than those for housed students, according to our latest analysis of student homelessness data from across the state of Washington.
Students Experiencing Homelessness in Washington's K-12 Public Schools: Trends, Characteristics, and Academic Outcomes, 2015-2018, the second edition of our Schoolhouse Washington annual report analyzing public school data in depth, compares academic outcomes among students experiencing homelessness, living in low-income households, and those in stable housing. It also disaggregates outcomes by race/ethnicity, nighttime residence, and—new to this year's report—geographic location.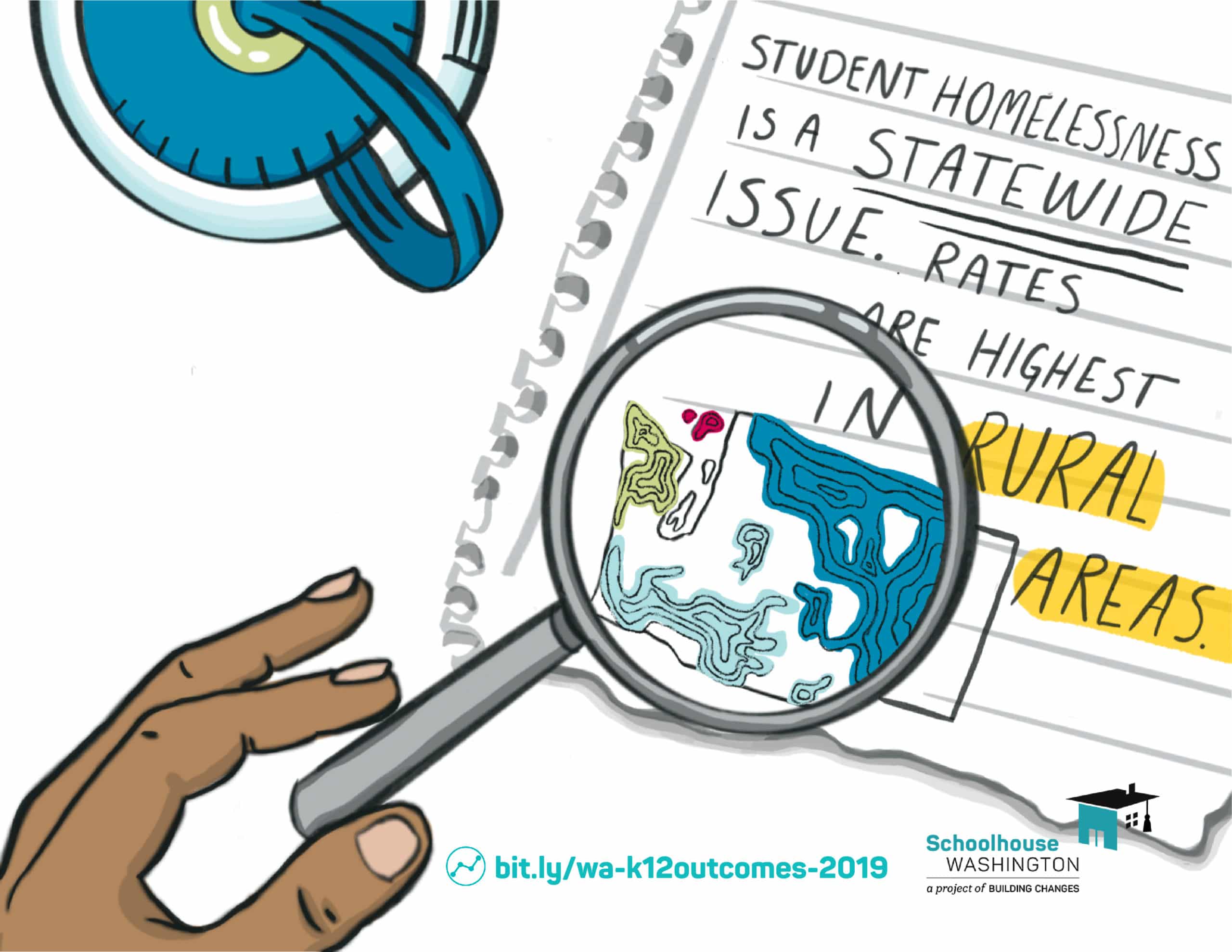 Our analysis found that on a per-capita basis, the rate of student homelessness is highest in school districts located in rural communities at 4.8%, compared to 4.3% for towns, 4.1% for cities, and 2.6% for suburbs. The data provide further evidence that student homelessness is a statewide issue in Washington.
Our analysis shows that academic proficiency gaps between students experiencing homelessness vs. their housed peers are widening in most academic outcomes, including proficiency rates in the core subjects of mathematics and English language arts. Positively, there is one exception. Although the on-time graduation rate for students experiencing homelessness remains far below that of their housed peers (56% vs. 83%, a 27-point gap), the rate itself has increased by six percentage points since 2015, with the gap narrowing by 3 points over that same span.
A summary of all of our key findings can be found on page 8 of the full report.
"Given what the data are telling us, it is evident that the needs of many students experiencing homelessness are not adequately being met," said D'Artagnan Caliman, executive director of Building Changes.
In addition to publishing the report, we also updated a set of interactive dashboards where visitors can search and find localized student homelessness data broken down by school district, legislative district, and county.
Infographic produced by Schoolhouse Washington and Building Changes, in partnership with Seattle University's Project on Family Homelessness. Graphic Designer: Anneke Karreman (SU '20)