Bringing personal experience with homelessness and foster care, Caliman is perfectly positioned for the role.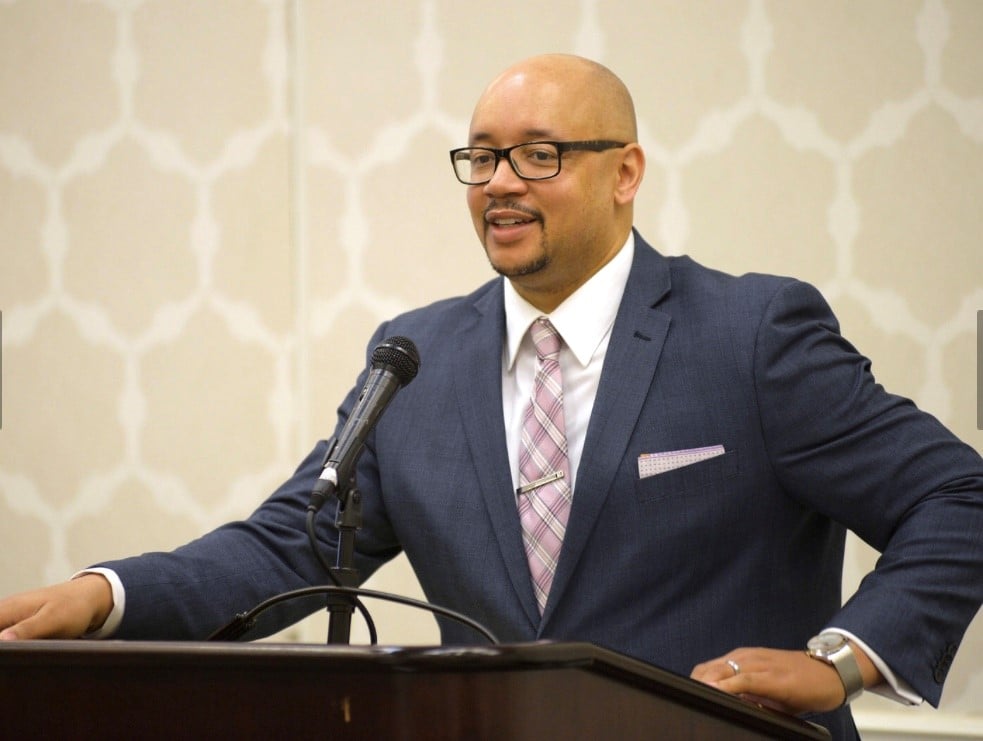 We are pleased to introduce our new executive director, D'Artagnan Caliman, whose professional and personal experiences reflect our vision for everyone in the state of Washington to have a home and an opportunity for a healthy, fulfilling life.
Caliman has spent most of his career in the field of child welfare, working to improve the practices and policies of the foster care system. Having experienced both foster care and periods of homelessness as a youth, he has devoted much of his boundless energy to ensuring that the people impacted most by practice and policy decisions are included in making them.
"D'Artagnan is passionate about our mission, having known and worked with families and young people experiencing homelessness throughout his life and career," said Rogers Weed, board president of Building Changes. "He has the skills and qualities needed to both broaden and deepen our connection to the communities we serve."
Caliman has been a leading advocate for preventing child maltreatment through initiatives that focus on strengthening families and communities. That experience will benefit Building Changes as we pursue prevention strategies aimed at helping families and young people on the brink of homelessness remain housed. He has worked one-on-one with families and young people, helping them advocate for changes in local, state, and federal child welfare policies to better serve the needs of people, including specific actions to advance racial equity within systems.
"Upon meeting him, what I loved most is his personal story," said Michael Brown, past president of the board. "As a man of color, D'Artagnan understands the challenges that people of color have in terms of homelessness, and how systemic issues can lead to homelessness."
Caliman, who starts on June 10, sat down with us last week to discuss his professional experience, personal background, and his vision for Building Changes moving forward:
BC: What has been the career path that brought you to Building Changes?
DC: I've spent about 25 years focused on serving youth and families within my community. I have been up and down the West Coast, then most recently the East Coast, and now I'm coming back to the state of Washington. I started my career in juvenile justice work, and then in 2000, began working for Casey Family Programs, a Seattle-based national foundation focused on foster care. I was part of a team that provided strategic consultation to child welfare jurisdictions to help them improve their foster care systems. I also partnered directly with folks at the federal level who are in charge of child welfare oversight to advocate for policies to improve foster care. Later, I served as Chief of Staff for the Maryland Department of Human Services, where much of my work focused on policy and advocacy.
BC: That sounds a lot like what we do at Building Changes.
DC: Exactly. The skill sets I gained through working in child welfare transfer well to the world of homelessness. I also spent the last three-plus years of my career working as senior manager of web and digital services for the largest national website focused on child welfare, which allowed me to learn more about data and improve my technical skills. One of the strengths that drew me to Building Changes is that it is a data-driven organization, which is similar to how I have tried to operate in the child welfare field. Whether the issue is child welfare or homelessness, the focus should be on what the data is telling us vs. what the perceptions are out there.
Let me explain further what I mean. I worked with child welfare jurisdictions that would come under great scrutiny because of a horrific case involving a child that ended tragically. It's very important to investigate what went wrong in that high-profile case. But what often gets lost is how many other children in similar circumstances have been kept safe because of the great decisions that a jurisdiction has made. Data allows you to tell a realistic and accurate story about what's really happening on the ground.
BC: How have your personal experiences influenced your professional experience?
DC: I am an alumnus of the foster care system. I spent three years in foster care in the state of Oregon, and there also were times growing up when my sister, mother, and I experienced periods of homelessness as a family. I also experienced the foster care system – as I have all other aspects of my life – as an African American male. I definitely view my professional work through a personal lens, and I think that's why I bring so much passion to my work.
I grew up in the late '90s in Portland, Oregon, and I witnessed many friends and counterparts get involved in gangs. When I was 17, one of those friends unfortunately got murdered in my neighborhood and I spoke at his funeral. I told the entire congregation that day: "I don't want to see what happened to my friend happen to anyone else in my community." And I decided at that point, right then and there, to dedicate my life to working in my community, and for my community.
BC: Sensing a trend here – your personal experiences also track our vision, mission, and values here at Building Changes. Having our new executive director be someone who can apply his own personal experiences to the work is an asset for us.
Thank you, I'd like to think so, too. During my time at Casey Family Programs, I managed a portfolio of national partners that worked on elevating the voices of who we called our "constituents" – birth parents impacted by the child welfare system, kinship (or relative) families, and youth and alumni involved in the foster care system. I worked on supporting the organizations that represented our constituents, and I helped prepare the constituents to share their stories so they could advocate effectively for improvements to the foster care system. They would meet with decision-makers on the Hill, both on the House and Senate sides, and with administrators at the federal level. They not only would share their stories, they would recommend specific changes to the system. What came out of that work was important child welfare legislation that has passed over the last few years related to sex trafficking and foster care prevention.
BC: I understand you have quite a lot of experience advocating for prevention services, which – once again – aligns with a top priority of Building Changes.
DC: I'm a real believer that we need to support youth and families at the front end so they don't come into the system on the back end. One of the things that I think I bring to Building Changes is that while prevention is a relatively new focus area in the homelessness field, we have been talking about prevention in child welfare over the past 15 to 20 years, and I have been personally involved in those conversations. There are many reasons or issues that can propel a family into the crisis of homelessness. We need to examine those antecedents so that more people can avoid ever having to experience homelessness.
BC: How do we influence more system leaders to examine the causes behind the high rates of racial disproportionality in family and youth homelessness? And following up on that, how do we then convince those same leaders to take actions that ensure racial equity exists within their systems?
DC: Great questions. This organization's focus on racial equity is another strength that drew me to Building Changes. As a young man, I worked at a residential program tailored toward creating rites of passage for African American youth. Ever since, I've been intrigued at how systems impact communities of color. How do we partner with agencies so they are thinking about how institutionalized racism and racist practices factor into the decisions they make? I think an important role for Building Changes is to continue to use data to educate and demonstrate how systems do not always serve the best interests of people of color, and also to bring people of color to the table. People of color cannot be treated as tokens in decision-making processes. We must be real partners because we bring ideas and perspectives that will not be heard